THe Red Sweater Project | EDUCATION
The Red Sweater Project focuses on providing quality education for students in Tanzania. Their goal is to build high quality secondary schools that are able to produce effective community leaders. Students are taught to practice innovation and implement creativity through their use of sustainable technologies such as composting toilets, community farming, and solar powered classrooms and lanterns. We will be raising funds for this initiative through our #BeTheChange program partnering with dozens of schools across the USA to teach social impact and leadership skills!
Vision For Youth | Education | Women's Empowerment | job Training
Since 2013, Vision for Youth has been a pivotal relationship to all of BeSomeone's work across the country of Tanzania. V4Y empowers youth through training programs; ensuring a sustainable livelihood, equitable access to opportunity, and the resources to build a brighter future. We are proud to be their project partners to build out a Social Entrepreneurship Program and Community Center.
Kipawa, is an initiative to offer women a chance to provide for themselves financially; empowering them through a model for vocational training, where we work with them side by side in the process of creating new products and growing a small business. Each one-of-a-kind piece is made by Maasai women and other small tribes of Tanzania. Through creating a variety of jewelry, women are generating new opportunities for themselves and their families. All of the profits from the sales of their pieces go directly back to the women and their community.
COMPLETED PROJECTS
We work with the help of volunteers and generous donors. Thanks to your help we have been able to achieve the completion of multiple projects. From building a school and rain harvest system to launching different income generating projects, these initiatives have had an impact in the lives of people in Northern Tanzania.
Namelok school | EDUCATION
Built in 2015, in just a few short years the Namelok School has become a premiere school for the children of the Maasai tribe. What sets Namelok apart is their approach on teach in all three languages: Maasai (the native tongue); Swahili (the national language) and English. This sets these kids apart and allows students to grow and learn at a more successful rate. Education is extremely important to BeSomeOne and the leaders of the Maasai people. Together we are creating broader horizons for the tribe's youth. The education of young women and girls is also leading to the empowerment of a new generation of leaders in the community.
2013 | BSO directly improved the lives of 8,000 people who face a vital need for water. By building a reservoir in the Monduli district in Tanzania, we provided access to lifesaving water, the benefits particularly impacting women and children.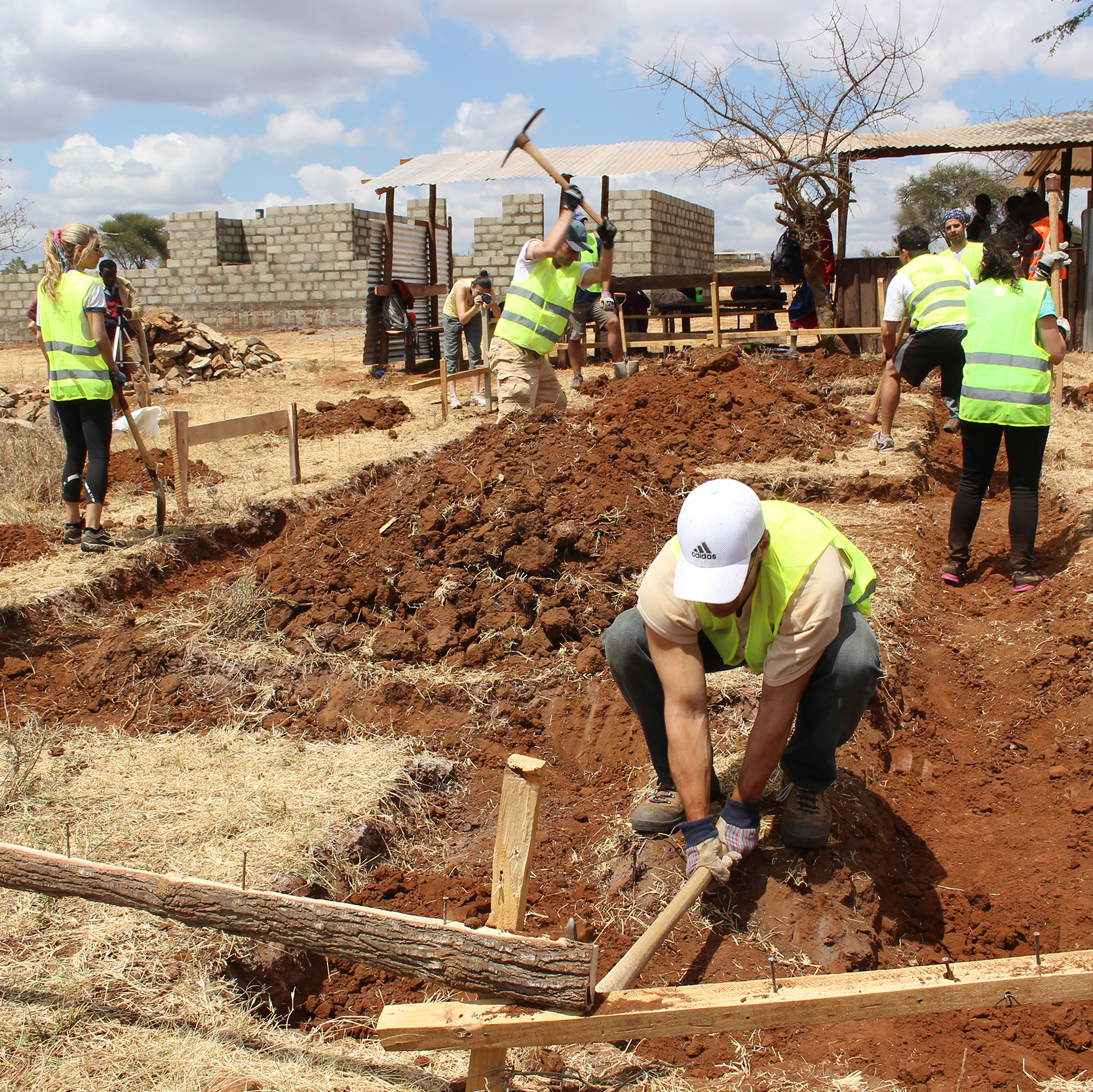 NAMELOK SCHOOL CONSTRUCTION
2014 | As our second volunteer trip, human beings from around the globe came together to start the construction of Namelok School in Terrat, Tanzania. This special school continues grow and empower a new generation of leaders, at the same time that it stays true to the Maasai culture.
2016 | Partnering with Building Bridges Worldwide and The University of Texas McCombs Business School, volunteers built a kitchen and a water system that captures rain to solve Namelok's problem of water scarcity during the dry season.
Volunteer in africa
Join us in Tanzania and find out how you can make an impact by constructing the next classroom, teaching an art class or working with the women to hone their jewelry skills. There are plenty of volunteer opportunities out there, find out why there is only one program like BeSomeone.